| | |
| --- | --- |
| | Search Chinese Symbols/Words: |
Translate Your Words - get a favorable Chinese translation for your
creative art design and tattoo idea! -->> Submit Your Idea!
---
---
Like this page?
Click the FB button to share~
THANK YOU!
---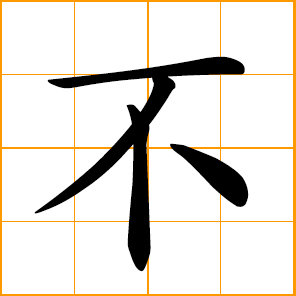 Chinese text: 不
The meanings in Chinese:
no
not
negative
pronunciation: bu~2

pronunciation: bu~4

view the bu section for more information!
calligraphic strokes animation:
multi-style calligraphic fonts for this symbol:

---
Receive through e-mail all the calligraphic styles for your art design for just $2.00!

Click Here to view the example page for all seven calligraphic styles, traditional and simplified Chinese symbols (8 clip-art files) in a folder.

Item number for this symbol: 0008


Note: a folder which contains several clip-art JPEG files will be created and e-mailed to you within 1-2 days. Sorry about the inconvenience and thank you very much!
---
related keywords: negative
recommended words or phrases:

不能
can not
unable, fail to do
must not, should not

不休
nonstop
endlessly
ceaselessly

不再
no longer
never again
not any more

不對
incorrect, wrong
not in accordance with fact
amiss, abnormal, queer
wrongly or inappropriately

不變
unchanged
unaltered
invariable
not changed

不凡
unusual
outstanding
extraordinary
exceptionally good
out of the ordinary

不怕
fear not
not afraid of
not to flinch from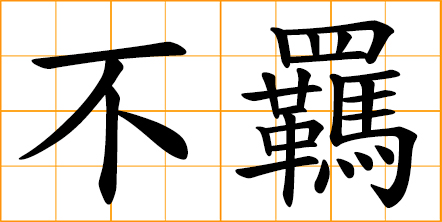 不羈
uninhibited
unselfconsciously
without restraint
without trammels

不得已
have no choice but
act against one's will
have no alternative but

不了情
endless love
unfinished love
Love Without End
never-ending love


不歸路
road of no return
a bittersweet life

不客氣
you're welcome
my pleasure
don't mention it
be unkind, hard on, rude to
frank, candid, straight forward

不滿足
not satisfied
not contented

不倒翁
a tumbler
a person who frequently recoups
(the loss of position, wealth, etc.)

不可分離
inseparable
difficult to part with
unable to be separated


不可思議
uncanny
incredible
unbelievable
beyond comprehension

不離不棄
never leave or betray
always be at your side

不屈不撓
dauntless and tough
unyielding and indomitable

不念舊惡
forgive and forget
not bear old grudges
let bygones be bygones

不同凡響
unique and outstanding
unusual and extraordinary
not a common chord
out of the common run

不虛此行
It's been a worthwhile trip.
The trip is not a waste of time.
The trip has been well worthwhile.
The journey has not been made in vain.
---
Translate Your Words/Names - get an elegant Chinese translation for your creative
art design, tattoo, and business project! -->> Submit Your Idea!