| | |
| --- | --- |
| | Search Chinese Symbols/Words: |
Translate Your Words - get a favorable Chinese translation for your
creative art design and tattoo idea! -->> Submit Your Idea!
---
---
Like this page?
Click the FB button to share~
THANK YOU!
---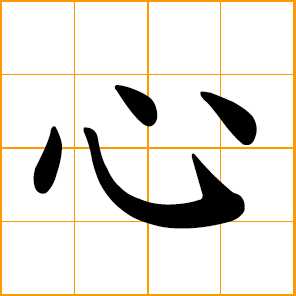 Chinese text: 心
The meanings in Chinese:
the heart
mind, mood
the center, core
pronunciation: xin~1

view the xin section for more information!
calligraphic strokes animation:
multi-style calligraphic fonts for this symbol:


---
Receive through e-mail all the calligraphic styles for your art design for just $2.00!

Click Here to view the example page for all seven calligraphic styles, traditional and simplified Chinese symbols (8 clip-art files) in a folder.

Item number for this symbol: 1496


Note: a folder which contains several clip-art JPEG files will be created and e-mailed to you within 1-2 days. Sorry about the inconvenience and thank you very much!
---
related keywords:
center , clear conscience , cordial , core , feeling , frame of mind , heart , mind , mood
Chinese words containing this symbol:

soul;

spirit;

mind


mood;

emotion;

frame of mind


peace of mind;

calmness of emotion;


cherish with heart;

be extremely fond of;


wish;

cherished desire;

pledge made to oneself


all the wishes come true

complete meeting of minds between two people

forever in my heart

load on one's mind;

secrets or worries in one's mind


painstaking care;

painstaking effort


persevering willpower

bright mind;

clear and alert mind


disappointed;

discouraged;

disheartened


heart linked to heart;

to be of one mind with


telepathy

worry about;

be concerned about


stop worrying;

free from anxiety


determination;

set one's mind upon


devote oneself to something;

have a quiet concentrated mind


zealous;

enthusiastic;

warmheartedness


attentively or diligently;

be careful; exercise caution


careful;

cautious

true-hearted;

from the bottom of heart


childishness;

childish heart


conscience

patience;

patient mind


make painstaking efforts;

great pains taken for something


modest and open-mind

cordial;

wholehearted


have an intimate talk

body, mind, soul

cause mental fatigue;

demand care or attention


barycenter;

center of gravity


happy;

have fun;

be joyful


care for;

be worried;

be concerned


great ambition;

lofty aspiration; loft idea


follow one's inclinations;

do anything one's heart dictates


do anything one's heart dictates

calm one's mind;

a peaceful mind


gratifying;

highly satisfactory


black heart;

lack of conscience


dim sum;

refreshments


to be of one mind;

with same intentions


open one's heart to;

be frank with others


cultivate oneself;

cultivate the heart and nature

faith;

confidence


be moved mentally;

be perturbed mentally


heartbroken;

break one's heart


ingenuity;

inventiveness


kindness;

benevolence;

compassionate heart


kindness;

kind-hearted


have a clear conscience;

feel no qualms upon self-examination

feel at ease;

have peace of mind


keep one's mind on;

concentrate one's attention


careful;

cautious;

wary


feel for others;

compare one's feeling with others


fully content;

fully satisfied


always in my heart

together with one heart;

work in full cooperation


love knot

cordiform
| | | |
| --- | --- | --- |
| sweetheart | psychology | psychologist |

heartbroken;

overwhelmed with sorrow


heartache

broken-hearted

watchfulness
| | | | |
| --- | --- | --- | --- |
| heartbeat | cardiogram | cabbage | water convolvulus |
| | | | |
| --- | --- | --- | --- |
| macaroni | mahogany | bull's-eye | bullet-proof vest |

core;

center, central


downtown

visitor center
---
Translate Your Words/Names - get an elegant Chinese translation for your creative
art design, tattoo, and business project! -->> Submit Your Idea!