Eight Chinese Characters 八字
Convert your Birth Year, Month, Day, Hour into
Eight Chinese Characters 八字 in lunar calendar,



Heavenly Stem 天干, Earthly Branch 地支, Chinese zodiac animals
used in Feng Shui, Horoscope, Matchmaking, and Fortune Telling
---
Chinese vocabulary with English keywords
A B C D E F G H I J K L M
N O P Q R S T U V W Y Z
forgive
stop feeling angry or resentful
towards someone for an offence or mistake
see another keyword link:
forgive (1-character)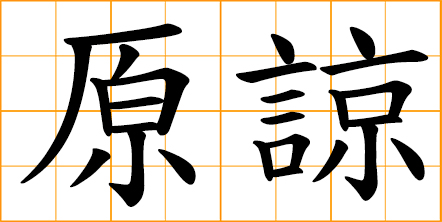 to forgive
to excuse
to pardon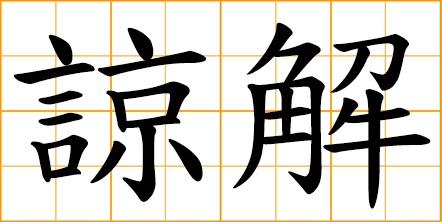 understanding
sympathetic awareness
tolerant sympathetically
make allowance for

to forgive
to excuse
to condone

to pardon
to absolve
remit a punishment

mercy
leniency
kindness
benevolence
magnanimity
philanthropy
charitable
benevolent

magnanimity
magnanimous
generous heart
mercy and tolerance
generous and forgiving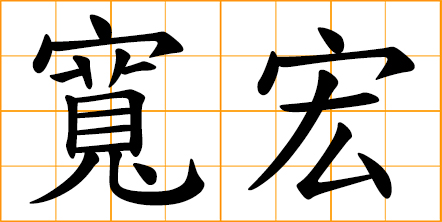 magnanimous
great-hearted
large-minded
generous or forgiving towards a rival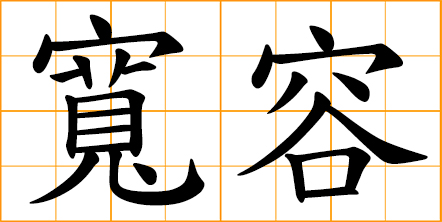 forgiving, merciful
tolerant, tolerance
lenient, lenience
forbearing, indulgent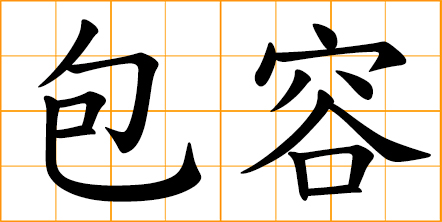 tolerant
to tolerate
bear and forgive
bear with each other

forgive and forget
not bear old grudges
let bygones be bygones

I am sorry.
Excuse me.
Pardon me.
---
1-character Chinese Words Collection
traditional/classical Chinese symbols
which are good for Chinese art design ideas
---
2-character Chinese Words Collection
traditional/classical 2-character words
which are good for Chinese art design ideas
---
Chinese Surnames, Family Names
Spelling based on standard Mandarin or Cantonese
---
Chinese Porverbs Collection
collection of modern and classic Chinese mottos and proverbs
---
Chinese words/symbols for
Love, Passion, Affection, Sentiment
---
Man, Male, Father, Boy, Borther
---
Woman, Female, Mother, Girl, Sister
---
Chinese words for Kung Fu, Martial Arts
---
Chinese words for Animals, Beasts, Pets
---
Chinese words for Birds, Wings, Flying
---
Chinese words for Food, Cooking, Eating
---
Chinese words for Fantasy, Legend, Mystery
---