Eight Chinese Characters 八字
Convert your Birth Year, Month, Day, Hour into
Eight Chinese Characters 八字 in lunar calendar,



Heavenly Stem 天干, Earthly Branch 地支, Chinese zodiac animals
used in Feng Shui, Horoscope, Matchmaking, and Fortune Telling
---
Chinese vocabulary with English keywords
A B C D E F G H I J K L M
N O P Q R S T U V W Y Z
fortunate
bringing some good thing not foreseen as certain
see another keyword link:
fortunate (1-character)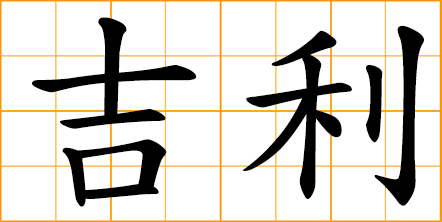 lucky
fortunate
propitious
auspicious
good luck

lucky
fortunate
good luck
good fortune

lucky
very fortunate
have good luck
have one's moments

extremely lucky
by sheer luck
very fortunate indeed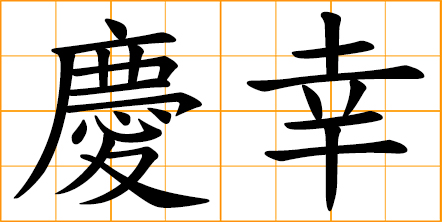 fortunately
congratulate oneself
gratified to have been favored by luck

fortunately
lucky enough
have the honor
happening because of good luck
have the honor of (doing something)


So nice to meet you!
count oneself most fortunate to get to know
It's the most fortunate thing to meet with you

supremely fortunate
heavenly providential
flood of good fortune fills the heavens
One's vast happiness is as high as the heaven.

fortunate serendipity
chance of good fortune
predestined good luck

Lucky for everything.
Good luck in everything.

safely out of danger
change danger into safety
misfortune turns to blessing
shift calamities into blessings
turn bad luck into good fortune
---
1-character Chinese Words Collection
traditional/classical Chinese symbols
which are good for Chinese art design ideas
---
2-character Chinese Words Collection
traditional/classical 2-character words
which are good for Chinese art design ideas
---
Chinese Surnames, Family Names
Spelling based on standard Mandarin or Cantonese
---
Chinese Porverbs Collection
collection of modern and classic Chinese mottos and proverbs
---
Chinese words/symbols for
Love, Passion, Affection, Sentiment
---
Man, Male, Father, Boy, Borther
---
Woman, Female, Mother, Girl, Sister
---
Chinese words for Kung Fu, Martial Arts
---
Chinese words for Animals, Beasts, Pets
---
Chinese words for Birds, Wings, Flying
---
Chinese words for Food, Cooking, Eating
---
Chinese words for Fantasy, Legend, Mystery
---