Eight Chinese Characters 八字
Convert your Birth Year, Month, Day, Hour into
Eight Chinese Characters 八字 in lunar calendar,



Heavenly Stem 天干, Earthly Branch 地支, Chinese zodiac animals
used in Feng Shui, Horoscope, Matchmaking, and Fortune Telling
---
Chinese vocabulary with English keywords
A B C D E F G H I J K L M
N O P Q R S T U V W Y Z
overcome
successfully control a feeling or problem
that prevents you from achieving something
see another keyword link: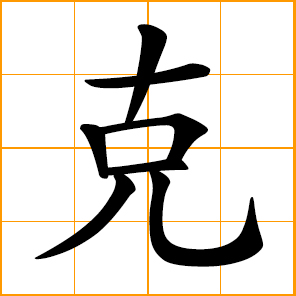 to overcome
to conquer
to subdue

to overcome
to surmount
get over
tide over difficulties


overcome adversity
get over hardships
surmount obstacles

The soft can subdue the hard.
Softness can overcome the hardest.
Soft and subtle approach can disarm a man of hot temper.

bring under control
defeat with strength
overcome with superior strength

conquest
to conquer
to subjugate
overcome and take control of
a place by military force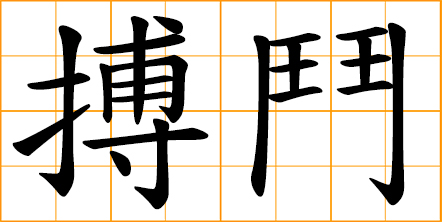 fight
combat
struggle to overcome

fight
battle
combat
struggle to overcome, eliminate, or prevent

to try
to attempt
make an effort to
complete something difficult

overcome a barricade
crash through a barrier
battling through difficulties

overcome all difficulties
surmount all difficulties


invincible throughout the world
too powerful to be defeated or overcome

self-discipline
the ability to control
one's feelings and overcome one's weaknesses

resourceful
resourcefulness
wisdom and stratagem
the ability to find quick and
clever ways to overcome difficulties
---
1-character Chinese Words Collection
traditional/classical Chinese symbols
which are good for Chinese art design ideas
---
2-character Chinese Words Collection
traditional/classical 2-character words
which are good for Chinese art design ideas
---
Chinese Surnames, Family Names
Spelling based on standard Mandarin or Cantonese
---
Chinese Porverbs Collection
collection of modern and classic Chinese mottos and proverbs
---
Chinese words/symbols for
Love, Passion, Affection, Sentiment
---
Man, Male, Father, Boy, Borther
---
Woman, Female, Mother, Girl, Sister
---
Chinese words for Kung Fu, Martial Arts
---
Chinese words for Animals, Beasts, Pets
---
Chinese words for Birds, Wings, Flying
---
Chinese words for Food, Cooking, Eating
---
Chinese words for Fantasy, Legend, Mystery
---