Traditional and classic Chinese calligraphic symbols, words, idioms and proverbs for your art design. Created by
Andres Leo
since 2001.

Search Chinese symbols/words through this site:


List of all related Chinese words in English keywords:


If you could not find any Chinese words/phrases for your art design
Please contact with Andres Leo, he will try his best to translate and create a proper version for you.
The standard version is PNG transparent background format, with serval calligraphic fonts for art design.
The special service fee is $10 for one phrase, Please contact Andres Leo: taigoan@gmail.com
---
spark
a small amount of a quality or intense feeling;
a small fiery particle thrown off from a fire,
alight in ashes, or produced by striking
together two hard surfaces such as stone or metal
see another keyword links:
small

sparks


A spark causes a prairie fire.
A single spark can start a prairie fire.
A little spark can cause conflagration.

fire stone
a piece of flint used with steel
to produce an igniting spark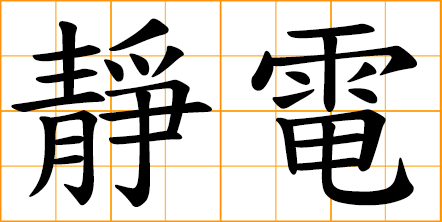 static electricity
a stationary electric charge
which causes sparks